Step right up for an unforgettable carnival experience! House of Bounce brings the thrill of carnival game rentals to the Houston area. From classic favorites to interactive challenges, our game rentals offer endless fun for all ages. Foster teamwork, engage in friendly competition, and win exciting prizes. Explore our diverse lineup, including themed frame games, tabletop options, and more. Our top-quality equipment ensures a worry-free event, while our friendly staff takes care of setup and operation. With over 8 years of expertise, House of Bounce is the trusted choice for carnival rentals in the Houston area. Book online and get ready for carnival excitement like never before!
Professional delivery to
Alvin, TX, Dickinson, TX, Friendswood, TX, League city , Tx, Santa Fe, TX, Manvel, Tx, Pearland, Tx, Webster, Tx, Angelton, Tx, Houston, Tx, Rosharon, Tx, Danbury, Tx, Bellaire, Tx, Iowa Colony, TX
and surrounding areas. Please submit a quote or contact us to be sure we service your area.
Step right up! Create your own carnival-style mix of excitement at your upcoming event with beloved carnival game rentals in the Houston area, courtesy of House of Bounce. These engaging skill games have been a favorite among both young and old at local carnivals across the country. Now you can infuse that timeless carnival atmosphere into your event. Offering options for various skill levels and space requirements, we're confident you'll find the perfect choices to craft an unforgettable carnival-themed party. These game rentals are perfect for school fundraisers, church events, birthday celebrations, and family gatherings, adding an exhilarating twist to your festivities. House of Bounce offers an exceptional range of carnival game rentals that the Houston area adores.
? Dive into classic yet fantastic games that evoke the essence of carnivals. These timeless attractions, renowned for their popularity, cater to various types of events. Our game rentals cater to both solo players and groups, promising endless enjoyment for all ages. Foster teamwork and friendly competition while ensuring everyone has an absolute blast. With enticing prizes up for grabs, House of Bounce presents an array of the finest carnival game rentals cherished in the Houston area! Explore our lineup below and click on each title or image for more information and easy online reservations.
? Immerse yourself in the excitement of themed frame games, blending interactivity with captivating visuals. Most of our Houston area carnival game rentals involve tossing activities using bean bags, balls, or props against a themed vinyl backdrop. These themed frame games are perfect for ages 3 and up, offering an engaging experience for the young ones. These games also make fantastic party add-ons alongside inflatable rentals. The rules of each game vary, offering different levels of difficulty to suit various age groups. Penguin Fish Fling, Jumpin Joey, Chef Challenge, Chicken Flinger, Pin the Tail, Barn Stormers, Zap the Zombies, and Sombrero Toss are some popular options. Don't forget to explore our lineup of large floor games and interactive system games too.
? Our tabletop carnival games bring big fun to small spaces. Most of these games can be set up on small tables and adjusted to different heights to accommodate all age groups. With varying levels of difficulty, our tabletop games offer versatile options for different events. Mega Wire, Maze Runner, Lobster Boil, Pick a Fish, Pork Chop Speedway, and more are available. Our backyard customers adore these compact tabletop games, and they also make fantastic add-ons with our inflatables, enhancing the fun factor. Don't forget to explore our other items that can complement your Houston area carnival game rental, such as our battle light games and IPS systems, among many other carnival ride rentals.
? While our primary focus may not be on carnival rides like the ones you find at large events, House of Bounce is dedicated to delivering loads of fun. Over the years, our team has provided a variety of options for carnival rides in the Houston area, catering to schools, churches, corporate events, and more across the region. The fun is limitless, with extreme attractions like mechanical rides or carnival-style items on offer. Explore our expanding inventory that's tailored to meet your event's requirements. Event planners in the area rely on us for Houston area carnival rentals, trusting us to offer top-quality options. Browse our inventory or give us a call to explore additional options, as we're well-connected in the area and can source what you need. Let House of Bounce be your go-to destination for carnival rides near you in the Houston area.
? We strive to make carnival ride rentals in the Houston area affordable and exciting. Our selection ranges from old-school favorites reminiscent of local fairs to modern options that captivate kids and teenagers. We offer a variety of awesome inflatables and other items that your guests will enjoy for hours on end. When attendees arrive at your event and see our setup, they'll be amazed. While we take care of entertaining your guests, you can focus on socializing and enjoying the festivities. All our Houston area carnival ride rentals are designed to impress at any event. Book your desired fun online today, right here on our website.
⭐ For over 8 years, House of Bounce has held a reputation as a premier provider of carnival rentals in the Houston area and the surrounding region. We've successfully serviced countless events, leaving numerous happy guests in our wake. Our friendly team understands the ins and outs of hosting events that involve Houston area carnival rentals. Our inventory comprises only the best options to entertain your guests, offering a comprehensive selection for carnival equipment rentals in the Houston area.
? We source all our equipment from reputable manufacturers in the industry, ensuring that our inventory is of the highest quality. Every time a customer rents carnival games in the Houston area from us, our team inspects, cleans, and sanitizes the equipment before and after each use. You can rest assured that you're receiving top-tier quality for your event. Say goodbye to concerns about broken, dirty, or dingy-looking rentals. We take immense pride in both our equipment and customer service. Allow our team to handle all aspects of your event, from setting everything up to demonstrating how each rented item operates. If you're hosting a large event and require attendants to manage the carnival games, let us know, and we'll provide the staffing. Place your trust in us, as the Houston area has done over the years, for all their carnival rentals in the region.
? Booking your next carnival games rental in the Houston area is a breeze. Our newly designed website and interactive online booking system make reserving fun a snap. You can secure your rentals at any time of the day, whether you're at work or at home. Simply browse our website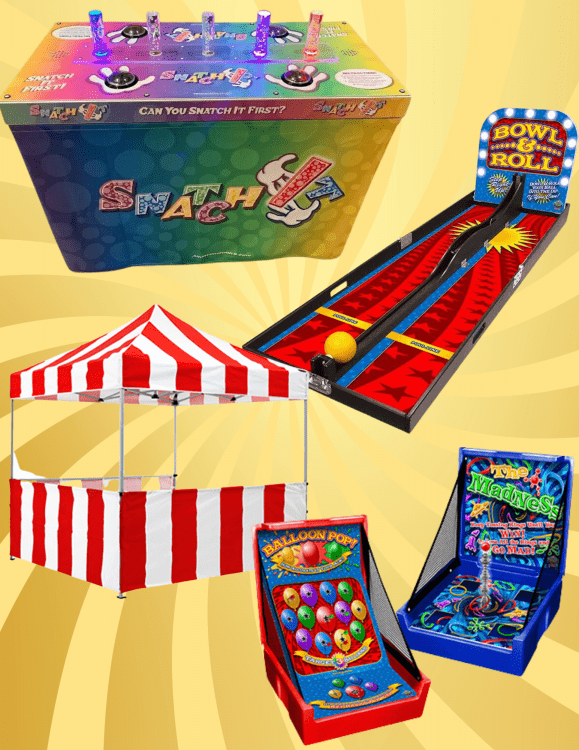 Snatch it Carnival Package
from $600.00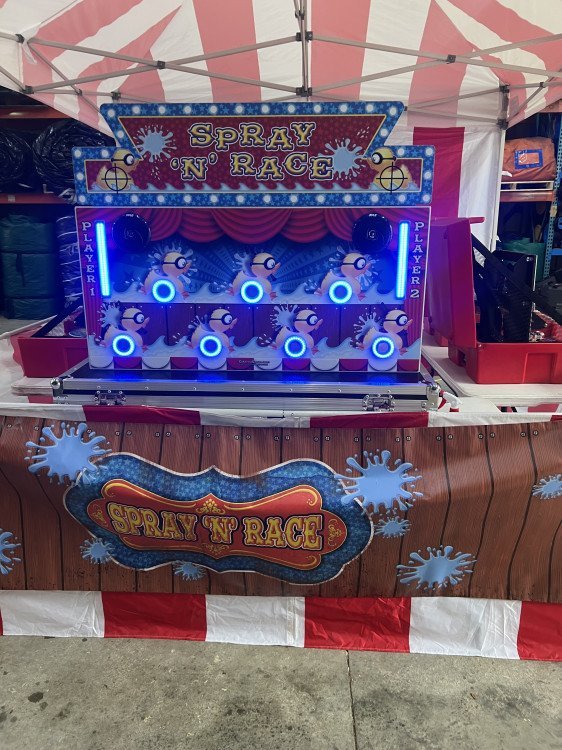 Spray N Race Carnival Package
from $600.00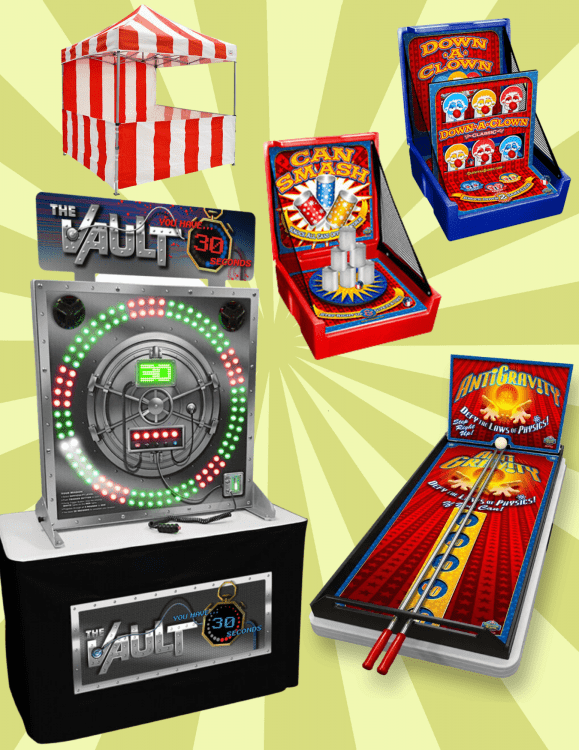 The Vault Carnival Package
from $600.00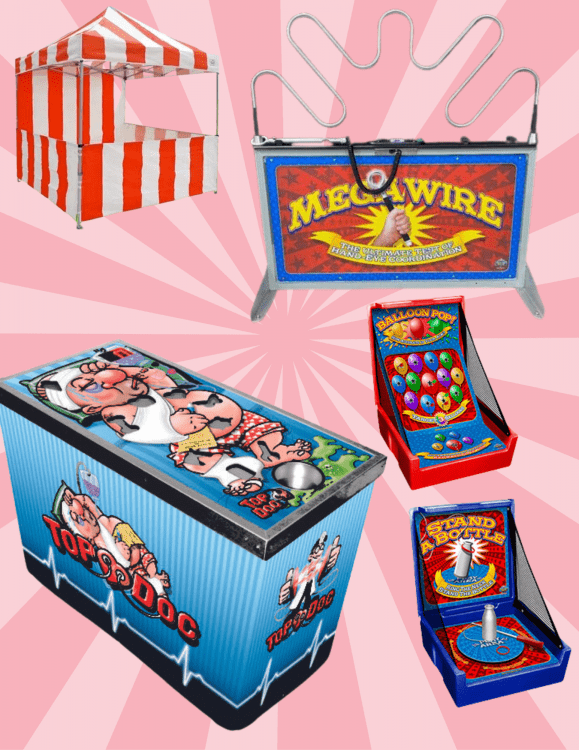 Top Doc Carnival Package
from $600.00